Where we meet:
Sundays | 9am/11:00am | Bethel Community Church
Our kids meet every Sunday  in our GoKids building.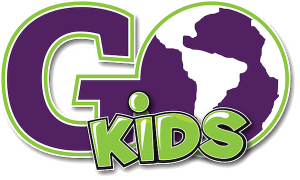 Our goal is to equip and empower the next generation to GO into all the world and preach the gospel by inciting wonder, provoking discovery, and fueling passion to help kids see themselves the way God sees them, so they can love others the way He does!
Go Kids is the place where kids and parents learn together about God's Big Ideas! It's an hour of fun, digital, interactive experience that happens every Sunday morning in our Go Kids facility. Because our goal is to partner with parents, we launch the Big Idea that K–5th graders are learning about all month long. We also provide each family with a Take-Home so that parents can help their kids apply the Big Idea at home—where it matters most! Come be part of the fun this Sunday.